Alexander Payne is the master of handling crises in film. Whether it's mid-life, old age regret or family, his speciality is bringing out the amusing, sad and most fulfilling aspects of each and his best film 'Sideways'  certainly has all of these, a veritable bittersweet masterpiece. It's no surprise then that Payne seeks to capture a similar tone for 'Nebraska', a simple tale about an elderly man set on his goal of claiming $1million having received a letter through the post that claims he has won a lottery.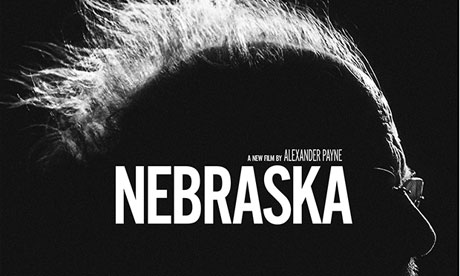 Payne uses the plot device to explore the relationship between Bruce Dern's main character Woody Grant and his son David, as played by Will Forte. Neither is satisfied with their lot in life, and despite David's initial skepticism, the way the tale becomes one of a rebuilding of a father-son relationship that may not have existed for some time is genuinely heartwarming, and the subtle way that this influences every scene almost pushes the whole million dollar thing to a backseat, bar a few important scenes.
Dern puts in a great performance as Woody, and one wonders whether any of the other star names that were once linked to this role, namely the likes of Jack Nicholson and Robert Duvall would have pulled off quite the same visceral, genuine performance here of a man returning to larger roles, having largely been on the sidelines in the last few years. You're never quite sure what side of senile Woody is on and Dern portrays the jolting difference between a vacant, clueless Woody and the determined, strong-willed and unbowed one that is so adamant he must reach Nebraska to claim his money wonderfully, bringing the bittersweet tone through and ensuring that we're fully aware of Woody's plight.
It blends humour with conflict very well also, as we get to see the friendly veneer of Woody's relatives and old friends before realising that now they think he's a millionaire they want a portion of his winnings for some new-fangled reason or other. This brings out the ire of his family, so often critical of Woody, and shows the dynamic of his family, and indeed of the community, as being two completely different things. Payne builds on this motif by having the family bond in an effort to do things right by Woody in his own community, and maybe eventually get him a chance to see whether his million dollar winnings actually do exist or not.
'Nebraska' does have some jarring moments, and even some slower, less interesting ones that Payne could maybe have cut out to make the film a leaner, more amusing one, but it is certainly charming and sad, redemptive and uplifting in the manner that he is an expert at engineering. This, together with the great performances serve to elevate it above the faults, and it becomes a solid addition to the Payne canon; a good way of summing up the tone of his movies. 'Nebraska' is worth watching if you're a Payne fan, and has enough genuine, realistic humour and drama to entice anyone to it, even if Payne's decision to film it in black-and-white may rankle with the modern cinema goer.
http://www.youtube.com/watch?v=UT5tqPojMtg
To see what times the film is showing click here