It's not often that a member of a cult rock band moves on to become a film-maker whose début feature length work stars an A-list actor in the form of Michael Fassbender, but John Maclean has done exactly that. Formerly of The Beta Band, a band that was noticed by and taken on tour with the likes of Radiohead but never rose above underground status before finally disbanding after three studio albums, Maclean's talent for film has been showcased before, with Fassbender starring in two previous short films: 2009's 'Man on a Motorcyle' and the BAFTA winning 'Pitch Black Heist' in 2011. Fassbender was obviously enamoured enough with the writer-director that he was willing to return for a feature length film this time and it's a good thing that he does too because 'Slow West' is an unassuming triumph of a western that is paced beautifully and packs all the right punches.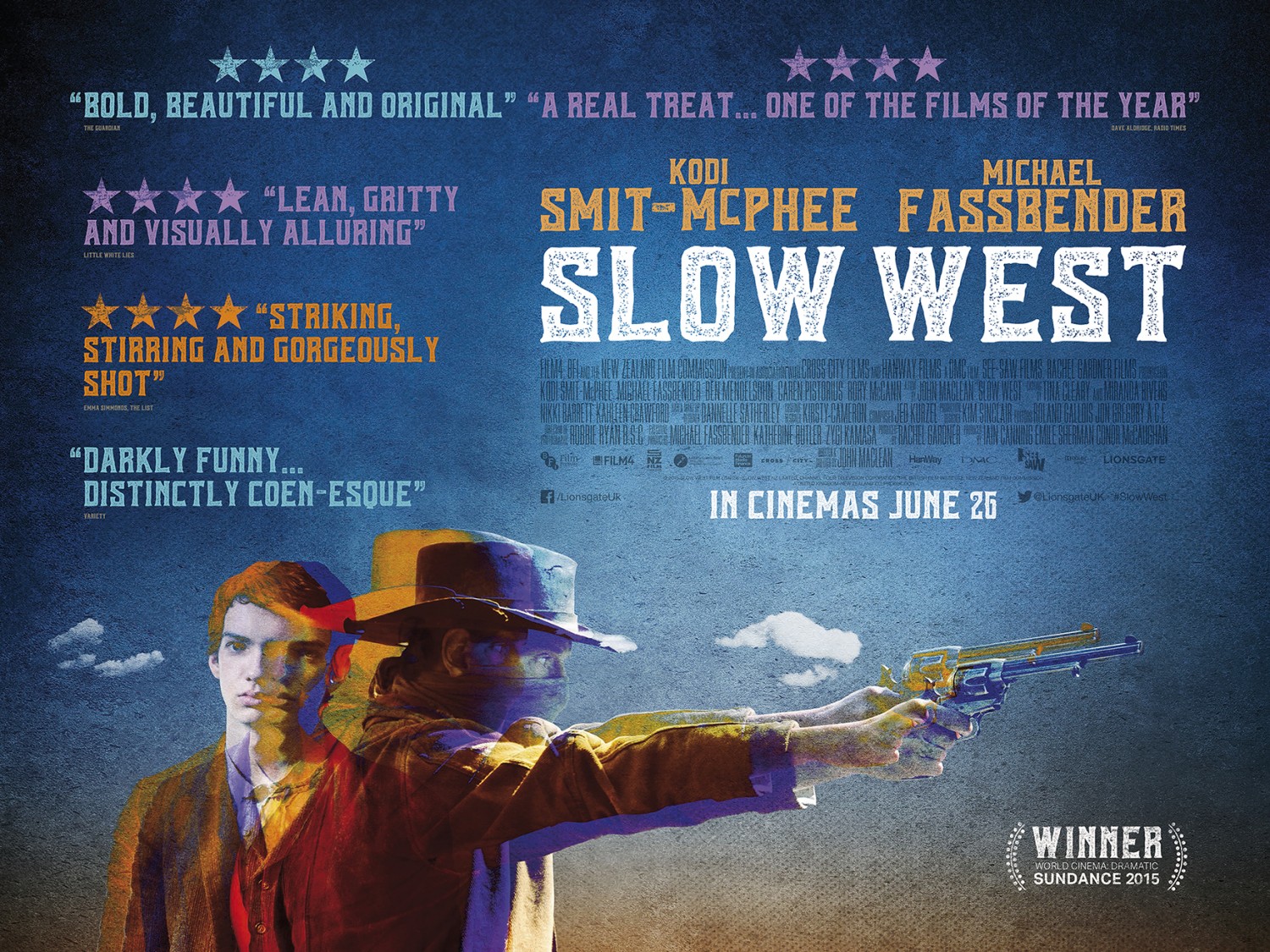 One of the film's main strengths comes from its simple plot. Maclean knows that often in cinema it can definitely be a case of less is more as he opts to show us far more than he tells us. 'Slow West' contains about a quarter of the lines you would find in your average Tarantino film but is no worse off for it, particularly when you have a performance as effortlessly good as Fassbender's to help engulf you in it. Robbie Ryan's beautiful camerawork coupled with the great acting performances, Kodi Smit-McPhee in particular also deserving a mention in the lead role, means that a lot of the drama is portrayed in other ways, be it a grunt or a look or even just the sight of two people plodding through torrential rain, and a lot is conveyed in those moments that they are often the most affecting parts of the film ahead of the slightly more wordy sections.
Maclean is also an expert in knowing just when to turn the heat up, so that a film that has spent a while gently simmering suddenly erupts in brief moments of intensity that encapsulate the essence of the Wild West as a violent but sparse place that can be both tranquil and brutal. These outbursts juxtapose well with the vast expanses shot so expertly by Ryan, particularly in an intense and wonderfully shot finale that glues your eyes to the screen until the end.
'Slow West' is a masterclass in timing and pacing that one would expect a seasoned director to be able to put together, but Maclean shows that that isn't at all necessary with a self-assurance that belies his lack of feature-length experience. Its lean runtime of just 84 minutes works in its favour, allowing it to squeeze the most out of its straightforward plot points and focus on the atmosphere, which is where Maclean has excelled. A strong if small cast also do their bit, but ultimately this is a tale of triumph for a talented director whose future in cinema looks very good indeed.
To see when the film is showing click here