Some fans have been eagerly awaiting the second DC premium boxset, with the first proving very successful. 'Crisis on Infinite Earths' was released last year, leading many to speculate this new line of box sets could be an annual release from DC Comics.
Unfortunately, however, the 'Blackest Night / Brightest Day' boxset has been recalled from all retailers with a rescheduled release set for January, in what must be an incredibly expensive utilisation of resources.
For those interested, the box set can be preordered from here. Amazon still list the date as the 17th of November 2020, so they will treat all orders as backorders, but will ship the books in January. It is likely Amazon may even send the boxes out a few days early, given the solicitation hasn't been updated. There is an incentive to order now, too, with the set being a mere £171.39 at the time of writing. The book's RRP is $300, meaning ordering now will save you a decent £50.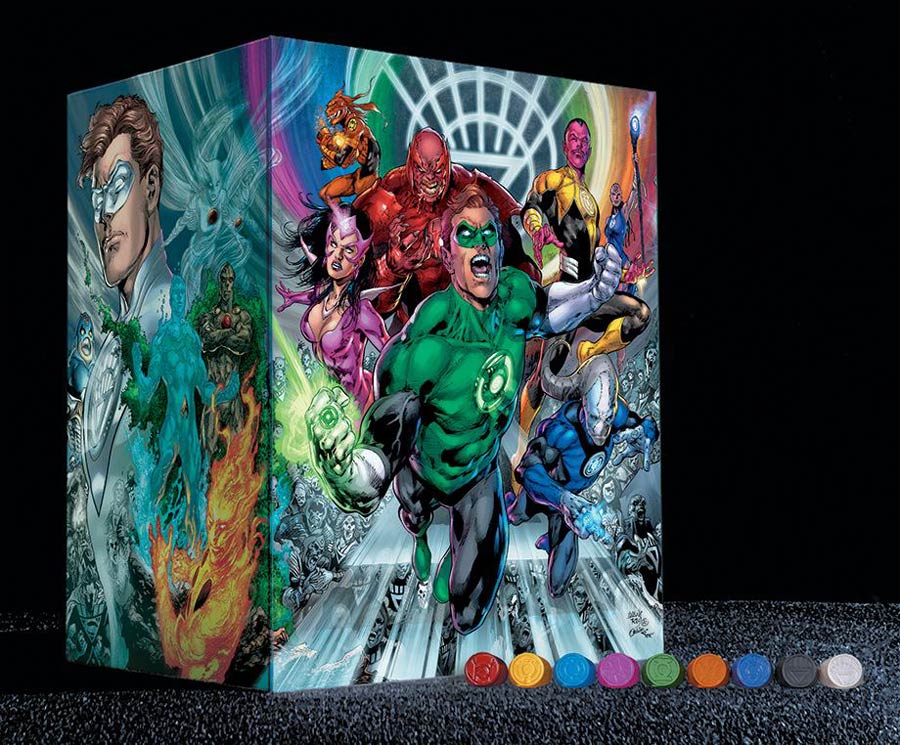 The boxset will include a set of nine rings, one of each corps in the story, making the set more collectable than standard releases.
The reason for the recall, is, as you'd possibly expect with DC by now, the binding. DC Comics have stated the books suffer "potential faulty glue/binding that may at some point fall apart." This is not dissimilar to the issues plagued with the first printing of Absolute Swamp Thing by Alan Moore volume 1, and more commonly older big omnibus editions. No book should ever ship with printing errors, but books at this price point should certainly have no issues whatsoever. So even if the issue with faulty glue and subsequent binding is only a "potential" problem, DC have perhaps made the right call by their customers.
That said, if you happen to purchase one of these boxsets before January, there's a very strong certainty your books should be sent back to DC. Inspect them thoroughly, if you intend on keeping them, and if you come across any issues do contact the retailer you purchased the boxset from.
The contents of all twelve books
Blackest Night: Prelude collects Green Lantern #26-28 and 36-43 and Final Crisis: Rage of the Red Lanterns #1
Blackest Night collects Blackest Night #0-8 and pages from Untold Tales of the Blackest Night #1
Blackest Night: Green Lantern collects Green Lantern #44-52
Blackest Night: Green Lantern Corps collects Green Lantern Corps #39-47
Blackest Night: Black Lantern Corps Book 1 collects Blackest Night: Batman #1-3, Blackest Night: Superman #1-3, and Blackest Night: Wonder Woman #1-3
Blackest Night: Black Lantern Corps Book 2 collects Blackest Night: The Flash #1-3, Blackest Night: JSA #1-3 and Blackest Night: Titans #1-3
Blackest Night: Rise of the Black Lanterns collects The Atom & Hawkman #48, Phantom Stranger #42, Green Arrow #30, Adventure Comics #7, Starman #81, The Question #37, Catwoman#83, Weird Western Tales #71, and The Power of Shazam! #38
Blackest Night: Tales of the Corps collects Blackest Night: Tales of the Black Lanterns #1-3, Adventure Comics #4-5, Untold Tales of the Blackest Night #1, stories from Green Lantern #18-20, 40, 49, Green Lantern/Sinestro Corps: Secret Files, Tales of the Sinestro Corps: Superman-Prime, and pages from Blackest Night #0
Brightest Day: Green Lantern collects Green Lantern #53-62
Brightest Day Book 1 collects Brightest Day #0-11
Brightest Day Book 2 collects Brightest Day #12-24
The Book of the Black collects sketch material (both previously released and new), series proposals, variant covers, posters, all or at least most of the Blackest Night outline scripts, and a few other things.
The description supplied by DC Comics
"Two of DC's most famous crossover events, Blackest Night and Brightest Day, are collected in 12 new hardcovers in a highly designed box set with nine collectible rings representing the many corps featured in this epic tale.

A war has been brewing between the different coloured Lantern Corps, with the Green Lanterns fighting the Yellow, the Red trying to destroy everything, and the Blue attempting to broker peace among the tribes. But the real battle is yet to come: the undead Black Lanterns are coming and seemingly nothing can stop them. Putting aside old vendettas, it's up to Hal Jordan and the Green Lantern Corps to lead DC's greatest champions as well as their deadliest foes in a battle to save the universe from an army of the dead. Then, once dead heroes Aquaman, Martian Manhunter, Firestorm, Hawkman, Hawkgirl, Deadman, Jade, Osiris, Hawk, Captain Boomerang and Zoom must discover the mysterious reason behind their return and uncover the secret that binds them!

This eye-popping box set includes 12 brand-new hardcovers that collect this entire epic, featuring stories by top DC talent including Geoff Johns, Peter J. Tomasi and many more!"
Do not let the issues with this boxset put you off ordering one, either from Amazon (here) or your favourite comic retailer. Blackest Night alone is the definitive event, which delves deep into the DC character roster, but is still well written enough to be understood by even the most casual of fans. When the set does eventually come out, expect the style of box to be the same as the Crisis boxset (see it on Amazon here) and similar Marvel boxsets. Standard sized hardcovers in a box roughly the height of an omnibus edition.
Words: Graeme Small