As this year's Freedom Festival approached, artists from all corners of the globe tirelessly prepared performances to be debuted on the first weekend of September 2023. Hailing from France, the contemporary circus company Les Filles Du Renard Pâle travelled to Hull this week ahead of their performance at the festival on Friday the 1st and Saturday the 2nd of September. One of the most highly anticipated events happening across the weekend, 'Résiste' sees an evocative mixture of tightrope mastery and experimental live music. To discuss the creative process behind the show, Lucy talked to project leader, highwire, and tightrope expert Johanne Humblet.
Lucy: "How did you create the concept for 'Résiste'?"
Johanne: "Résiste is the first part of a triptych: 'Résiste', 'Respire', 'Révolte' or attempts at failure. Resist, revolt, and breathe are words that struck me as vital at this point in my life. For example, the desire to push back the limits – my limits – is necessary for my personal development. I have a strong commitment, and an even stronger connection with my thread. The writing of 'Résiste' is the obvious image and symbol of what I want to express through my research and my relationship with it. For 'Résiste', I want to be part of the whole experience; the circus, and more specifically the wire, is my tool of expression. The symbolic images, my physical investment, the wire must be able to express a form of individual resistance, without being explicit and bringing in anecdotal elements."
Lucy: "And what does the wire symbolise to you personally?"
Johanne: "The thread of life; this expression takes on its full meaning here, reminding us that anything can happen. For instance, I'll stand up straight, sometimes crushed, not without breakage, but I'll always go forward because you must hold on aha! It's this initial feeling that I want to rely on to open up all possibilities and to be able to go where I've always wanted to go: into the unknown, risking life and risking the thread…"
Lucy: "How did the project begin? Can you tell me about the moment you were first inspired to create 'Résiste', to the moment you first performed the project to an audience whether it be in rehearsal or not?"
Johanne: "I wrote the project for the show in 2016. I began by working with builders and engineers to design and manufacture this new circus apparatus that I imagined, which is the 'Fil Instable' (Unstable Wire). Then we did lots of crash tests and residencies to research new material for the wire. Once we'd found the circus vocabulary, I got the team together and we did creation residencies with the music composer and the musician (Deadwood), and the show saw the light of day in May 2019."
Lucy: "How do you prepare to perform a tightrope routine – do you have any pre-show rituals to help you perform at your best?"
Johanne: "I don't actually have any rituals. For me, the most important thing is to be with my team, to be together before the show, because we are a team. The wire is my element, I know it, it's a part of me, and it's always a real pleasure to find it again, and even more so when the audience is there. To take pleasure and give pleasure!"
Lucy: "How does 'Résiste' differ from other projects you've curated and performed before?"
Johanne: "'Résiste' is my first creation. I became artistic director and author of this, and I'm so happy to set up my own projects because I can go where I want to go, with no limits. I'm lucky to have surrounded myself with a team that trusts me to carry out these crazy projects!"
Lucy: "Which elements of working with highwire do you enjoy the most, and what do you find most challenging about it?"
Johanne: "Wire is a circus speciality that's restrictive and often isolated. I want to develop this discipline and find another way of practising it. There's still so much to explore, and to do that I need to find ways of developing it, making it interesting, breaking the codes, opening up the fields of perception. My work and my artistic approach seek to skirt and push back the limits to surpass myself, to go even further, to test and explore the unknown and working with a wire, which is challenging at the best of times, has allowed me to do that. I put myself to the test by carrying out 'crash tests', for example I surround myself with a solid team, both from a technical point of view on and around the wire, and for the construction of new materials."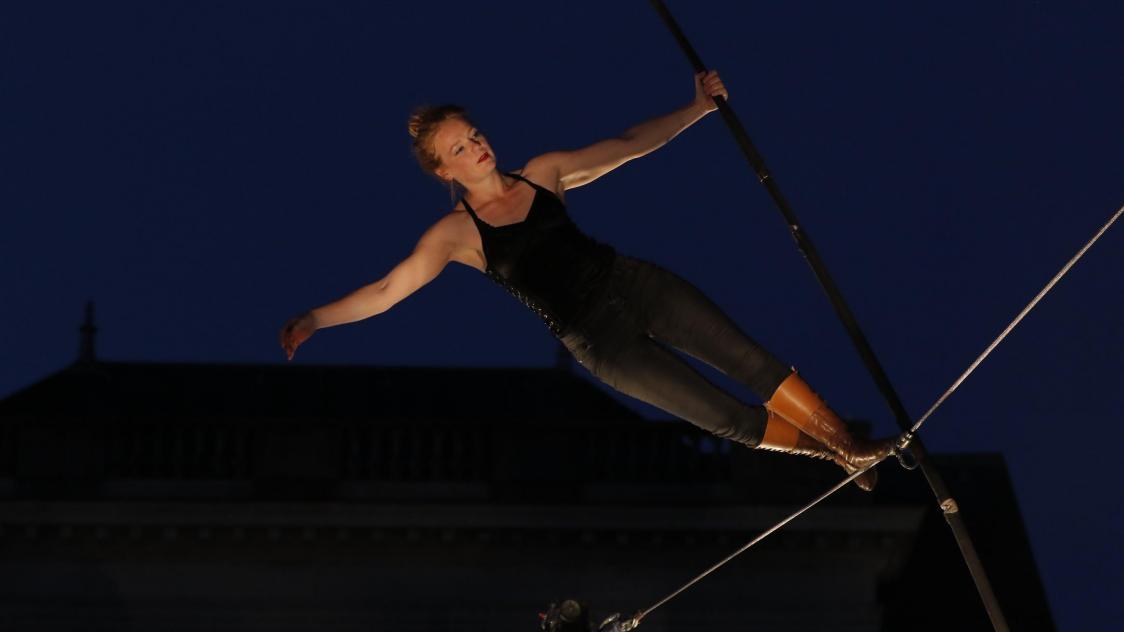 Lucy: "How did you create the music to accompany your performance?"
Johanne: "Jérémy from the group Deadwood composed the music for the show, except for a cover of France Gall's song Résiste written by Michel Berger, which he composed in parallel with the circus creation on stage. The two are totally linked."
Lucy: "Finally, what do you want your audience to feel when they watch your performance? What emotional impact do you want it to have on them?"
Johanne: "I love it when the audience goes through different emotions, and the show tells its own story. People often tell us that the show gives them strength and energy, and that gives me great pleasure."
Freedom Festival 2023 comes to a close on Sunday the 3rd of September, but if you're still hungry for more Freedom Festival content you can check out our YouTube channel for interviews with this year's most anticipated artists.
To find out more about Les Filles Du Renard Pâle click the link below: 
https://www.lesfillesdurenardpale.com/
To find out more about Freedom Festival 2023 click the link below: 
https://www.freedomfestival.co.uk/?gclid=Cj0KCQjwusunBhCYARIsAFBsUP-x61KpMDDyNcx3SzCVFS6FoEQk72wKeC-8MTeSnD6yaL6hOOAVXkEaAh6oEALw_wcB