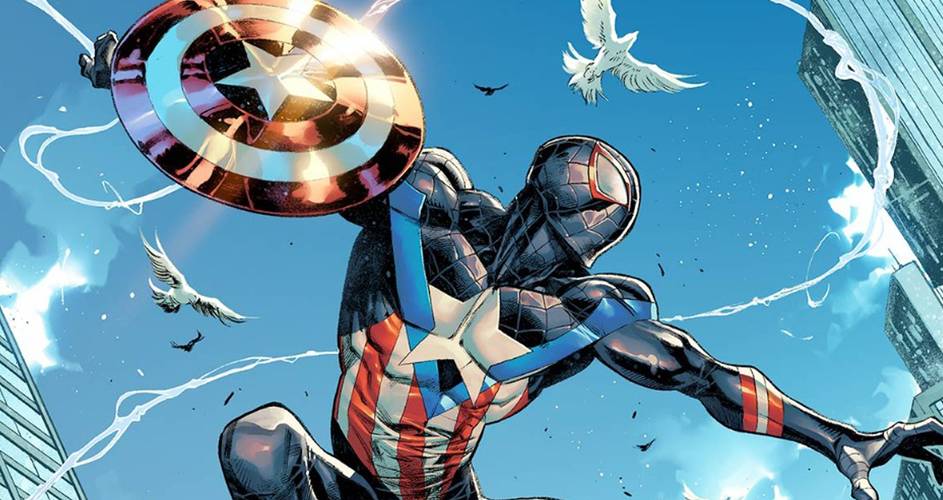 Marvel's Spider-Man could be getting a suit upgrade, if the incredible new cover by Iban Coello and Alejandro Sanchez is anything to go by. The cover could also be just that, a simple albeit
beautiful cover, particularly with the cover being a variant and not the standard cover. Regardless of whether the suit is to be worn by Miles remains to be seen, in Miles Morales: Spider-Man #28 due on the 21st July 2021 and Marvel Unlimited around October.
The suit itself obviously pays homage to Captain America, with the classic shield seemingly attached to Miles' arm. Instead of the classic American flag, though, the suit itself pays tribute to the flag of Puerto Rico, the country of which Miles Morales' mother was from in the comics. The single star over a blue triangle shines prominently on Miles' chest, with the red and white stripes reaching from his torso down to his waste, although there are too many stripes for the flag to be entirely accurate. Two red and a single white stripe also appear to go around at least one of Morales' forearms.
Spider-Man's new Clone Saga will wrap up in Miles Morales: Spider-Man #28, by Saladin Ahmed and Carmen Nunez Carnero. Given the nature of this new Clone Saga, it's possible that the figure in the incredible image isn't even the real Miles. It's also not impossible that this is just a fun image rendered by Coello and Sanchez for the purposes of little more than showing off their incredible skills. Chances are, the choice to feature Miles in this outfit is simply a tribute to Captain America, who celebrates his 80th anniversary this year. Either way, it's a stunning image and wouldn't look out of place proudly framed on a wall or slabbed and displayed on a desk or shelf.
"THE CLONE SAGA REACHES ITS CATACLYSMIC CONCLUSION!•  Selim was cloned and raised to be the perfect super-soldier for hire. Miles has trouble just getting to class on time.•  Selim's scruples are also vastly different than Miles'… so Miles' family is in horrific danger.•  YOU DO NOT WANT TO MISS THE MOST HEART-WRENCHING COMIC OF THE YEAR!" – Marvel Comics solicitation for Miles Morales: Spider-Man #28
Don't forget to preorder this cover, which you can do so here and here.
Words: Graeme Small